Kite Musical Instruments Links
---
Useful web-(and other) addresses concerning aeolian instruments and their carrier kites.
Nützliche Web- und andere Adressen (Material etc.) zum Thema "Drachenmusik"/ Aeolsinstrumente.
I'd be very grateful for mailing me other related "aeolian" kite-/ pigeon links!
Für weitere Hinweise wäre ich sehr dankbar!

Members of the "International Aeolist Family"
who have own web-sites or e-mail addresses:
Do you know some more, or did you find BROKEN LINKS? Please mail them to me, thank you!
Please note!! All "@" characters were replaced by "AT" in order to avoid spam mails.
So please replace "AT" by "@" when mailing. Thanks for your comprehension!

Bruno Tondellier / France
http://www.ventcourtois.com/
Bruno's splendid report about the International Berck-sur-mer (France) Wind-Garden in April 2002 and 2003 with lots of photos and sound examples of the aeolian instruments!!!


Didier Ferment / France
http://w1.neuronnexion.fr/~dferment/summary.htm
See his splendid, inspiring sites with extraordinary kites and lots of good sound ideas!
Do you know the sound of a plastic bottle in the wind...?!


Robert Valkenburgh / Netherlands
http://www.windgallery.nl/
Our Master of Concert; see his pages with beautiful wooden sound instruments; "aeolistic" art!


Patrick Guilbert /France
guilbertpa"AT"wanadoo.fr
Our Wind-Gardener... if you ever happen to see a field of planted wheat on a beautiful beach, Patrick will be not far...


Michel Trouillet, a nice overview site with many construction details
http://www.ecoleole.com/doc_PDF/formation_jardins_du_vent_2005.pdf


Patricia et Patrick Mouchaque /France
http://www.carnetdevol.org
Know the kites and his-story... carefully investigated knowledge!


Jean-Paul Richon / France
http://www.jardinduvent.com/
Don't miss his marvellous "Aeolian Garden Page"


Pierre Fabre / France
pier.fabre"AT"wanadoo.fr
The well known artist of kites. There is no shape which won't fly...


Alejandro Guzetti/ Italy
http://www.alejandroguzzetti.it
See his beautiful things made of feathers and other things found at the seaside. His sculptures made for the gentle wind of the South are a fest for your eyes...!


Chris Dodson
http://www.gotwindmakemusic.org/

See his nice aeolian instruments like aeolian harps with cylindrical body, his aeolian whistles made of whole gourds, his instruments full of fantasy on the beach, etc., etc.



A complete (?) list of "Aeolists" you will find at http://w1.neuronnexion.fr/~dferment/aeolist.html


Related News-Groups etc.
news:rec.kites about kites, however; (in English)
news:de.rec.drachen (auf Deutsch)
news:rec.music.makers.builders Questions about technical details of your instruments? (in English)
news: alt.sci.physics.acoustics in case of any questions about acoustics. (in English)
news:rec.crafts.knots in English
Kite-Ring Kite Forum in English
http://www.kitelife.com/ the electronic kite magazine
Bambus Forum/ banboo-forum in German and English
news:rec.gardens.bamboo the new international bamboo-newsgroup


For special questions concerning acoustics, please see the pages of Campanella Associates...


Have a look into the MIMF-forum's link pages for information on a lot of instrument related things like pickups, wiring etc.


An interesting CD by Andreas Bick, a sound-artist from Berlin, made a beautiful 33min. piece called "WindScapes" by using sounds of different aeolian harps and interesting recordings he made in the windy ghost towns of Namib desert in Namibia. The piece has a very special charme...


Bambusrohre? Ja gewiß, ein bissel teurer als in China, aber echte, grüne Rohre (phyll. edulis ="moso") in La Spezia/ Italy gewachsen und in 1A Qualität und Durchmesser (bis 10cm!!)...


E M I forever!
Experimental Musical Instruments by Bart Hopkin, a VERY interesting magazine about unusual/ new instruments, the homepage includes a list of the different subjects published over the last 12 years (whirlies, pyrophones, aeolian harps, mirlitons, kite flutes, Chinese Musical Kite Bows, bamboo-wind-organs and....and....). An audible overview of each magazine-year is available in form of tapes! Have a look into Bart's pages!

EMI ist eine sehr empfehlenswerte Zeitschrift über internationale experimentelle Musikinstrumente aller Art, welche viele schöne Anregungen in Bezug auf Instrumentenbau, natürlich auch Aeolsinstrumenten gibt. Sie ist in Deutschland auch über den Fernleihverkehr der Bibliotheken erhältlich. Zusätzlich zur Zeitschrift gibt es zu jedem Jahrgang eine Kassette mit allen im Heft vorgestellten Musikinstrumenten!
Ein Bibliotheks-Standort in Deutschland ist z.B. die Bayerische Staatsbibliothek München, dort fehlen jedoch die ersten Hefte von 1985, der Rest ist komplett.

Bart Hopkin hat leider aus persönlichen Gründen die Herausgabe dieses wegen seiner ungewöhnlichen Instrumental-Ideen hochinteressanten Magazins im Herbst 1999 eingestellt.

Darin z.B. Diskussion von bandförmigen (Unari, Ék) versus runde Saiten, Drachen-Flöten, Windharfen, vom Wind betriebene Flöten, Pyrophone (Tonerzeugung mittels Flammen), Windwards, Bambus-Windorgeln, Whirlies an Lenkdrachen, Schwirrhölzer (Bullroarer) und viele andere Dinge mehr...Lohnt sich!!

---




Description of the Bail kite festival in 1996. Pictures of "Bebean-Kites" and their characteristic sounds made by large musical bows with sound example: http://www.nbn.com/~harris/Bali_kite_festival/index.html


---




Chong Whye Keet's good article; The Singing Kites of Kelantan in "KiteLife" E-zine.


---



Pigeon-Flutes an article by James Jobb, the curator of the Howe-Homestead- Park about Chinese Pigeon Whistles which are of the same construction like the kite whistles of the Nantong type.
Every year at Halloween's, they let up some pigeons with whistles. GREAT!!

A second collection of Chinese Pigeon Flutes exists in the American Museum of Natural History in Chicago/ USA.
If someone has informations about other types of pigeon flutes, please Mail it to me. Thank you!

Artikel über chinesische Taubenflöten (Ko-Ling) von James P. Jobb, seines Zeichens Konservator des Howe Homestead Parks. Dort existiert eine Sammlung von Taubenflöten, die der amerikanische Diplomat Mr. Howe während seiner Tätigkeit in Peking zusammentrug. Als Attraktion des Parks werden am Halloween Tag zusammen mit Kindern "Kürbismänner" gebastelt und Tauben mit diesen Pfeifen bestückt in die Luft geschickt.
Kontaktadresse (Sorry, no e-mail address available yet):
Howe Homestead Park, 2950 Walnut Boulevard, Walnut Creek, CA 94596, USA
Eine zweite Sammlung von Taubenflöten gibt es im American Museum of Natural History, Chicago/ USA.

Pigeon whistles, an article by Berthold Laufer in the National geographic of 1913. Here's a copy of it with a picture of a pigeon carrying a multitone pigeon whistle on its tail-feathers (The Chinese principle. In Bali, the pigeons carry the flutes fixed in front of their thoraces.)
Artikel von Berthold Laufer über chinesischeTaubenflöten in Englisch mit einem Foto einer Taube, welche eine vielstimmige Flöte auf ihren Schwanzfedern trägt. (Chinesische Methode. In Bali trägt die Taube ihre flöteauf der Brust vor sich.) Die chin. Taubenflöte besteht aus einer zweistimmigen Flöte aus Kürbis, in welche kleinere Flöten einmontiert sind. Darum herum sind weitere Flöten aus Bambus montiert. Das ganze Ensemble wiegt nur wenige 'zig Gramm.

Whistling arrows, an old Chinese (?) technique presented by E. McEwen and D. Elmy ...

Richard Lerman: How to solder Piezos....
Wie man Piezo-Kontaktmikrophone verlötet...

Homepage of Jim Widess who is running a caning and gourd supply shop in Berkeley, CA, where you can get some rattan etc. for your musical kite bows like the Cambodian "Ék".
"The Complete Book of Gourd Craft"; a how-to book by Jim Widess and Ginger Summit about gourds and their preparation for art work ...or Kite Flutes, however..., with wonderful photos and detailed description of 55 different decoration techniques. I'm owing my whole knowledge of gourd-things to that really fine book.

Jim also made an amazing, wonderful tape (please see and hear an excerpt) with the voices of seven different Pigeon Flutes on the backs of seven white pigeons, flying for minutes while making the heavenly sounds of the famous midsky maidens.....

Homepage des kürbisbegeisterten Autors mit Abbildungen und Auszügen aus dem untenstehenden Buch etc. mit Bestellmöglichkeit. Diesem schön geschriebenen Buch ($26.95) verdanke ich all mein derzeitiges Wissen über kunsthandwerkliche Kürbisangelegenheiten. Die 144 Seiten mit vielen farbigen Fotos enthalten detaillierte Anweisungen für Anpflanzung, Trocknung, Verarbeitung und Dekoration (55 verschiedene Techniken) etc.der verschiedenen Kürbisarten für Drachenflöten, Kunsthandwerk usw.

Ginger Summit, Jim Widess
The Complete Book of Gourd Craft
1996; Lark Books, 50 College Street, Asheville, NC 28801, USA; ISBN: 0-937274-99-2
You can get the book in Europe und Great Britain by:
Cassell PLC, Wellington House, 125 Strand, London, Great Britain WC2R OBB.
Telephone: 011--44-71-420-5555 or Fax: 011-44-71-240-7261. Also available in Dutch

By the way, in July 1999 a fine new book
"Making Gourd Musical Instruments"
was published by the same author (Sterling Publishing House).
The CD No.02405 Gourd Musical Instruments, with the book's instruments is available also!


---
Seile, Leinen und Zubehör

Seilerei Fingado & Tully
Neckarauerstraße 143a
68199 Mannheim
Tel.: 0621 818282
Fax: +49 6201 825939
In Mannheim eine gute Seilerei mit vielem Zubehör, spezialisiert auf Schiffahrtsbedarf:


Besondere Empfehlung:
Drahtseil Hartmann GmbH
Brühlerstraße 52
68782 Brühl, Ortsteil Rohrhof
Tel: 700110 Fax: 700111 e-mail: webmaster@drahtseil-hartmann.de
Gurt- und Hebezeuge, Drahtseile, Hanf-, Sisal- Baumwoll-Seilerwaren in allen Qualitäten, sowie alle erdenklichen Zubehör-Kleinteile!


Weber-Polycord Flechterzeugnisse GmbH
Barbara-Uthmann-Platz 5
09456 Annaberg-Buchholz
Fax: +49 (0) 3733 27 703
Tel : +49 (0) 3733 23 356
Eine große Seilflechterei, die recht günstig geflochtene Drachenschnüre (besonders die legendäre, hart geflochtene "Skalenschnur" (ehemals für Radioapparate zum Bewegen des Zeigers auf der Skala hergestellt!! Ideal für Saiten etc.!) anbietet.

Seilerei Bernhard Muffler
Kirchhalde 1
78333 Stockach, Bodensee
Tel: 07771 4545
http://www.bodenseeseil.de
Alle Arten Seile und Zubehör. Hanftauwerk und Bindfäden (alte Qualität der Hanfwerke Füssen/ Immenstaad)


Buchbindereibedarf Lohnes
Reichenbachstraße 17-19
68309 Mannheim
Tel: 06201 735027
Bezugsquelle für verzinkten Flach-Stahldraht ("Heftdraht")
---
Excellent Japanese tools for woodcarving, -sawing etc. Fa. Dick, Metten (Online catalog)
Japanische Spezialwerkzeuge für Holz Sägen etc.
Die Sägen, obgleich deutlich teurer als "normale" Sägen, lohnen den Preis allemal durch längere Standzeiten und ultimative Schärfe. Das Gleiche gilt für die Schnitzwerkzeuge, Nicht vergessen, die speziellen Schleifsteine für Schnitzwerkzeuge mit dazuzubestellen! Siehe Werkzeug Nantong Flöten.

---
Indian Toolkit with 20 different tools for processing bamboo and rattan is available from:

NSIC Technical Services Centra
"The National Small Industries Corp. Ltd."
P.O: Balitikuri, Howrah-711402
India
Fax: +91 33 653 1314; Tel.: +91 033 653 2962
Website at http://www.nsicindia.com/
The 20Kg toolkit contains the following 20 tools:

1) Whole bamboo splitter (Bambushalm- Mehrfachspalter)
2) Fine splitter for round and half round stick (feines Spaltwerkzeug für runde und halbrunde Stücke)
3) Hand vice (Hand Schraubstock)
4) Hand drill with bits (Handbohrer mit Bohrern)
5) Tennon saw (Fuchsschwanzsäge)
6) Hacksaw frame with blade (Metallsäge mit Blatt)
7) Bill hook
8) Hand slick (Handzieheisen)
9) Wooden Plane with cutter (Holzhobel mit Messer)
10) Mallet (Holzhammer)
11) Ball pein hammer
12) Firmer chisel 1" (Stechbeitel)
13) Firmer chisel 3/4"
14) Mortise chisel (Lochbeitel)
15) Steel Tape - 2mtrs. (Stahlband)
16) Triangular File (Feile, dreieckig)
17) Round File with handle (Rundfeile mit Heft)
18) Combiation stone (Kombinations-Wetzstein)
19) Box wood foot rule
20) Blow lamp

Weight: 20Kg,
Size of the wooden box: L53cm x B38cm x H24cm.
Price including shipping and handling 76US$. F.O.B. (state of 2. Nov. 2000)
Within 4 weeks of receipt of advance payment, the toolkits will be ready for dispatch to Mumbai.
---
Das Bambus Centrum in Baden-Baden (Stadtteil Oos) nahe der Autobahn, für alle, die mittel- oder unmittelbar mit Bambus und verwandten "Gräsle" zu tun haben möchten. Am Ende möchten Sie vielleicht doch noch eine eigene Bambuszucht im Privatgarten haben, so für alle Bambus (Drachen...) Fälle? Kein Problem, Sie werden Ihr grünes Wunder schon noch erleben!
Es können Pflanzen für den eigenen Garten mitgenommen werden! Der Bezug von Bambushalmen (auch grün und ungetrocknet) bis 10cm Stärke und entsprechender Länge ist Verhandlungssache; sprechen Sie darüber mit Herrn W.Eberts!
Das deutschsprachige Bambus Forum wird von ebenfalls Herrn Eberts mit VIEL Engagament betrieben. Er hat auf beinahe alle Fragen die passenden Antworten. Versuchen Sie's ....

Die Besichtigung des Bambus-Schaugartens lohnt sich in jedem Fall.
Der Bambuswald in Südfrankreich (Bamboo-Forest in the South of France) hilft bestimmt bei Materialmangel! Ist allerdings ziemlich teuer... aber schööön!
Wenn Sie öfters in Südfrankreich/ Umgebung Alès unterwegs sind (z.B. Urlaub), vergessen Sie auf keinen Fall, einen Abstecher dorthin zu machen!
Es ist eine der wenigen Gelegenheiten, sich wirklich wie im asiatischen Dschungel zu fühlen; Aug' in Aug' mit Bambus sozusagen....
Bambuspflanzen/ -Halme jeder Stärke können natürlich auch mitgenommen werden.


---



Chinese Flute Kites from Nantong (Chinesische Flötendrachen)
Being a part of the Avantgarde-kitestore's homepage, this page is showing kites from the kite factory in Nantong/ China (see address beneath). These kites have a bamboo frame, a covering from painted silk and flutes from gourds (body of the big ones) or from bamboo veneer (body) and bamboo (head). The kites are flown with a trailing, long double-line functioning as an elegantly stilted tail . They require high wind speeds around 50-60 kmh.

Here's Pan Gang's HP of his kite shop in Paris http://www.pan-paris.com/ (e-mail: panparis"at"chinakite.com) where you can buy the Chinese "Whistle-Kites" of Nantong and also beautifully made chinese pigeon whistles.


For people having some patience/ connections and being interested in buying Nantong Kite-Whistles directly in China here's the adress of the factory normally making rosewood-furniture but also the well-known Nantong Gourd Kite Whistles following secret folk-traditions....
You should have the patience to wait several weeks for an answer. It would be better to write in Chinese, however.
Nantong ZiGuang Arts Products Co., Ltd.
Jihua General Manager
Shihua Bridge West of the East-Busstation
Nantong, P.R.China. Tel.:+86 513 5663040; Fax.: +86 513 5663076
---
Making your kite colors by yourself?
Pigments colors for kites in golden yellow and red hues? Have a look on the source of ochre, a natural pigment, in the south of France, le "Colorado de Provence" with a panorama in splendid colors...

---



Bermuda Kites a kite site about Bermuda Kites following Frank Watlington's book "Bermuda Kites- How To Make And Fly Them".
Bermuda Drachen von der St. George's Preparatory School, Bermuda. Eine schön gemachte Seite nach Frank Watlington's Buch "Bermuda Kites- how to make and fly them"; Island Press; mit ausführlicher Bauanleitung... -
"...geben Sie, falls Sie den Mehlpapp-Kleister selbst anrühren, noch etwas Chayenne Pfeffer gegen die gefräßigen Küchenschaben hinzu..." Mahlzeit, ihr Küchenschaben...
- über Bermuda Drachen (engl.). Diese tragen, wie russische Rechteckdrachen und auch manche asiatische Formen, einen laut summenden Drachen Musikbogen aus Bambus an der Spitze. Die über den Bogen gespannte Saite ist in der Mitte mit einem halbovalären Stück Papier beklebt, (Spezialität der Bemudadrachen) welches durch seine Vibration im Wind den lauten, hohen, insektenähnlichen Summton erzeugt.


---



Japanese Kites Kite Site of Masami Takakuwa from the land of the rising sun. Good descriptions with beautiful photos and links.
Japanische Drachenseite von Masami Takakuwa. Die bisher schönsten und umfassendsten Seiten über japanische Drachenarten (mit Bildern), die ich bisher finden konnte. Schöne Abbildungen, gute Beschreibungen; eine Fülle weiterer Links und natürlich viele Drachen, die mit Summern (japanischer Drachen-Musikbogen "Unari") versehen sind.
---
Aeolische-Musikinstrumente
(Aeolian Musical Instruments, which can be visited --and heard...)
Do YOU know some more? Please mail it to me, THANKS!

Windharfen (see Aeolian Harps on the Weibertreu-castle in Weinsberg, Southern Germany)

Demjenigen, der sich in Deutschland dafür interssiert wie Windharfen klingen, kann geholfen werden. Südöstlich vom Autobahnkreuz Weinsberg (A6, A81) in Süddeutschland gelegen und weithin sichtbar, liegt oberhalb des Ortes Weinsberg die aus goldgelbem Sandstein gebaute
Burg "Weibertreu"
Dort haben vor vielen hundert Jahren die "Weiber" (wie so oft...) ihre Treue bewiesen, als sie angelegentlich einer Burgbelagerung vom siegreichen Feldherrn freien Abzug gewährt bekamen.
Und sie durften dabei mitnehmen, was sie am liebsten hatten und soviel sie davon tragen konnten....
Sie nahmen -- man glaubt es nicht -- die eigenen Ehemänner auf ihren Buckel und trugen die schwere Last zu Tal, vorbei am gegnerischen Feldherrn, der wohl oder übel mitspielen mußte. Versprochen ist halt versprochen.
So kam damals dank der listigen Schwabenfrauen die gesamte Burgbesatzung ungeschoren davon. Das waren noch Zeiten....
Nun zum musikalischen Teil. Die Burg, die vom lokalen Frauenverein liebevoll gepflegt wird, hat auf ihrer Nordostseite einen großen Geschützturm, in welchem in alle vier Himmelsrichtungen große Schießscharten für Kanonen eingelassen sind. In diesen stehen meterhohe, doppelseitig mit vielen Nylonsaiten bespannte Windharfen, welche im fast ständig blasenden Wind geheimnisvoll singen und raunen. Ein SEHR romantischer Ort. In der Mauer sind Steine mit Namen und Gedichten von vielen Romantikern, wie z.B. Achim v. Arnim, Clemens Brentano, Justinus Kerner, Ludwig Uhland eingelassen, die diesen besonderen Ort bzw. Windharfen schon vor vielen, vielen Jahren zu schätzen wußten. Falls Sie auf der Autobahn daran vorbeifahren, sollten Sie unbedingt einen Abstecher dorthin (2km von Ausfahrt) machen!

Now please listen the sound of my own 17 years old aeolian harp:
The harmonic music of an Aeolian harp. (*.mp3, 107sec., 210K)
The natures romantic voice or a simple musical automatic machine...? Please decide yourself ...!
A simple wooden box of mahogany with three sound holes; twelve 80 cm nylon strings of 0.6mm (tuned "G") and 0.9mm (tuned "E min."). It stood in the airflow of an almost closed door in my home...(See article about aeolian harp)

The Longstring Aeolian Harp. (See literature of Minssen, Mins; in German only)
This type of instrument was used with sucess in 1785 by Abbate Don Giulio Cesare Gattoni in Como/ Italy in order to build an mechanical instrument to predict the weather. He tried 50m threads of different metals including gold, silver, copper and ironwires. The last metal he found sounding best. (See article about the Longstring aeolian harp)
The instrument you can hear consists of nothing but a 0.6mm 2V-A-Steel wire, about 15m long and put under tension. The first sound is picked up from a resonator type "line-telephone" or tin telephone , which is fixed under tension with a line of 1mm diameter to the steel wire. The second tone is made with a piezo pickup directly at the suspension mast. The tones have a much more "mechanical" sound quality than the aeolian harp which you heard before.

Sound No.1 (102K, 52sec.; Longstring Aeolian harp with "tin-telephone" resonator)

Sound No.2 (131K, 66sec.; Longstring Aeolian harp picked up directly at the suspension mast)

Siehe auch die (französische) Seite von Didier Ferment aus Amiens/ Frankreich mit Windorgeln
For all people who travel/ live in Germany wanting to SEE and HEAR aeolian harps: Visit the Weibertreu-Castle in Weinsberg near Heilbronn, a VERY ROMANTIC and windy site with four aeolian harps in the castle-canon-tower.
Have a look on the french pages of Didier Ferment/ France with Aeolian Harps and aeolian Plast-organs/ Bamboo-organs (with sound example).
If you like to listen to the sound of an aeolian harp, then hear the sound example (*.wav) of the "Harp Makers Harp Page" .

.
"Wind-Orgeln"
Aeolian Organ in Petten (Coast of Noord-Holland) made in 1990 by the belgian artist R.Opstaele. 99 bamboo culms of 5m length each, with slits in the internodes.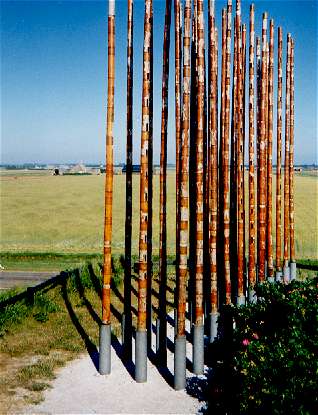 In den Niederlanden, im kleinen Küstenörtchen Petten (Provinz Noord-Holland), hat der belgische Künstler Raphaele Opstaele in den Dünen an der See die abgebildete Windorgel aufgestellt. Die 1990 errichtete "Wereldwindorgel" besteht aus 99 in den Boden eingelassenen, ganzen, fünf Meter aufragenden Bambushalmen, welche in den Internodien mit längsovalen, gefrästen Schallöchern versehen sind. Die Schallöcher sind immer direkt über einem Knoten angebracht, so daß sich kein Regenwasser in den Hohlräumen sammeln kann. Zur Verhinderung des Aufspaltens (bis jetzt, 1997, erfolgreich!) wurde jedes einzelne Internodium mit kunstharzgetränktem Glasfaserband umwickelt. Jedes Internodium bildet so ein anders gestimmtes, selbständig tönendes Element. Die wunderschönen Klänge laden bei bei gutem Wind zum Verweilen ein... Siehe auch die Prinzipzeichnung einer Windorgel von Didier Ferment, Amiens (F).

Habe noch was Schönes zum Schluß gefunden....

Kinder sind wie Papierdrachen:
.
Ein Leben lang mühst Du Dich ab, sie zum Aufsteigen zu bringen.
Du rennst mit ihnen über das Feld des Lebens, bis alle völlig außer Atem sind.....

Und dann stürzen sie ab und Du nimmst einen längeren Schwanz.
Du klebst die Löcher zu, tröstet sie, redest ihnen gut zu -- dabei versprichst Du ihnen, daß sie eines Tages richtig fliegen können.

Schließlich heben sie ab; aber sie brauchen immer mehr Schnur und Du gibt sie ihnen gerne. Mit jeder Drehung der Schnurspule entfernt sich der Drache weiter von Dir.

Dabei weißt Du genau, daß es nicht mehr lange dauert, bis das schöne Kind der Lüfte die Leine abschneiden wird, über die Du so lange mit ihm verbunden warst
-- und daß er dann hoch hinaufsteigt -- ganz frei und allein.

Dann erst weißt Du, daß Du alles richtig gemacht hast.
Laßt uns in diesem Sinne Kinder bleiben, hoch hinaufsteigen und frei sein!
Some questions left, criticism, new ideas....
or BROKEN LINKS? Please - e-mail - it to Kite Musical Instruments!
Thank you!


Zurück zur index-page of Aeolian Instruments/ Kite Musical Instruments
gestaltet und ständig weiterentwickelt von
Uli Wahl, all rights reserved