The "u l i - u l i",
a musical kite-bow from Sumatra
---
Pierre Fabre (pier.fabre@free.fr), a wellknown kite artist from Paris/ France, had the kindness to sent me a picture he made in Sumatra-island (western part of Indonesia). It shows a special kite bow combining the elements of a musical bow and an aeolian flute.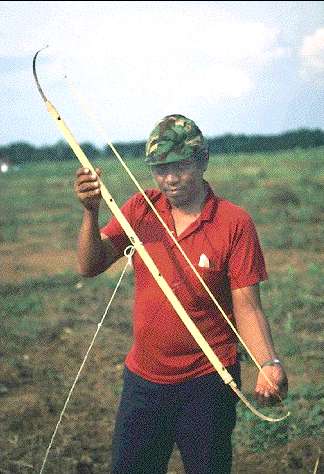 The picture is showing the kite-man presenting
the musical instrument "uli-uli"with a string
fixed to the very center of the bow.
The man was about testing the sound-qualities
of the bow by whirling it around his head by means
of the string.
The bow itself works like the Cambodian "Èk". Its middle part of the string makes a fast alternating rotating motion around its length axis, thus giving a sequence of tones in different pitches. It sounds like a real song...., doesn't it?
The small holes, which can be seen in the wooden part of the bow itself are acting like kite flutes, thus giving a continuous multitone, plaintive whistle-sound, analogous to the famous "plaintive or weeping bamboo" also located in Indonesia.
The infinite world of kite instruments....
Ideas, criticism, questions or some more links...?

Please give me the opportunity, to improve these pages for you,
so please Mail me up your opinion , thank YOU!

Developed and completed by
Uli Wahl, All Rights Reserved
Go back to Kite Musical Instruments/ Aeolian Instruments
German Version following beneath.....
---

Der "u l i - u l i"
ein Drachen-Musikbogen
aus Sumatra (Indonesien)
---
Pierre Fabre (pier.fabre@free.fr), ein bekannter Drachen-Artist und Fotograf aus Paris, sandte mir dankenswerterweise dieses Bild, das er auf Sumatra (Insel im Westteil von Indonesien) aufgenommen hatte. Es zeigt ein spezielles Drachen-Musikinstrument, das sowohl der Familie der Drachen-Musikbögen als auch der Drachen-Flöten angehört: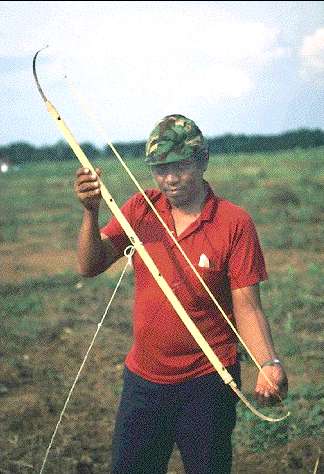 Das Bild zeigt den Instrumentenmacher mit seinem
"uli-uli". Im Zentrum des Bogens ist eine Schnur
befestigt.
Damit wird der Bogen auf einem "Testflug" um
den Kopf herum gewirbelt um vor dem Einbau
in den Drachen die Tonqualitäten des Instruments
zu testen.
Der Bogen selbst "arbeitet" analog zum kambodschanischen "Èk". Der Mittelteil der Saite führt während des Fluges eine alternierende Rotationsbewegung um seine eigene Achse durch. So kommt eine Tonfolge mit verschiedenen Tonhöhen zustande, die einem Lied ähnelt.
Klingt doch wie ein richtiges Lied, oder...?
Die kleinen Löcher, die im hölzernen Teil des Bogens zu sehen sind, fungieren wie Drachenflöten und geben je nach Lochgröße und Volumen des darunter liegenden Hohlraumes kontinuierliche, klagende Töne unterschiedlicher Tonhöhen von sich.
Die unendliche Welt der Drachen-Musikinstrumente.....
Anregungen, Ideen, Kritik, Fragen?
Dann bitte Mail an Kite Musical Instruments...

...Sie geben mir damit die Möglichkeit, diese Seiten
für Sie
weiter zu verbessern, Danke!

Zurück zur Indexseite von Aeolian Instruments/ Kite Musical Instruments

All Rights Reserved, Uli Wahl